Sometimes when I have some spare time I need to make a decision between blogging and painting…and painting has been winning out lately, which is a good thing.
I've also been selling some art, which it always very gratifying. Art is a very personal thing. People usually chose to buy art for emotional reasons. I never take it personally if someone doesn't like my art, but I do find it very validating when someone is willing to spend money to own one of my paintings.
The Paris Barn painting I entered into the show at Falls Church Arts (see my last post) sold. I actually expected the person who owned the property where the barn is located to buy it. She had expressed an interest in it in the past. That would have met the required emotional connection, but interestingly enough, someone else bought it. I was pleased.
I also had a couple of paintings sell from the Rockfish River Gallery. One was a watercolor of the mountains in summer. The other was an oil painting of Three Ridges in cloud. This is the smaller version of the painting that hangs above my fireplace.
So having paintings sell challenges me to paint more. I need inventory to keep my shows and gallery displays going. Here are some miscellaneous things I've done recently.
Actually, the first isn't recent. This is an oil painting I did last winter. I thought I'd already written about it but couldn't find where I had. This was done from a photo I took last January after we had a beautiful rime frost, where the fog froze to the trees on the peaks of the mountains. It was gorgeous, and I assure you the painting doesn't do reality justice. That said, I was happy enough with my interpretation of the scene. This was entered into the "Purple" themed show at the Shenandoah Valley Arts Center last month and it is now on display in the Rockfish River Gallery. It is oil, 24×12 inches.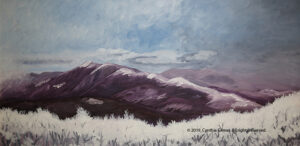 Because Kathy at the gallery has been doing such a great job selling my art I decided to give her a few new pieces. The first is a painting I did of a stately old dead tree on Beech Grove Road on the way up the mountain to Wintergreen. I'd painted this scene before and liked the painting so much I decided to hang it in my house (for now) rather than selling it. I enjoyed painting it a second time. The scene has great composition without any help from me. This piece is watercolor and ink, 8×14 inches.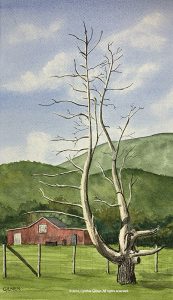 The other painting I put in the Rockfish River Gallery was a watercolor I did of a scene along Cub Creek Road, a well-maintained dirt road that connects Beech Grove Road to Route 56. When I took the photo, the leaves had just started to change. I decided to help them along a bit in my painting. I love painting fall colors! This painting is watercolor, 16×6 inches.

The show that just went up at the Shenandoah Valley Arts Center was called "Small Works". I had done a tiny little study of Three Ridges in fall color. The fall, although short lived, was stunning on the Blue Ridge this year. At first I didn't like this, but it grew on me. I messed with it a little, darkening and varying the green trees in the foreground and bringing out some shadows. I ended up liking it enough to enter it into the "Small Works" show. It definitely qualifies. It is watercolor 10×4 – tiny! [Update: This painting sold during the show.]

One other piece I did recently that I haven't even put in a frame yet is a fall scene from a trip we took to Natural Bridge State Park a few months ago. The fall colors were peaking and this painting was from a photo I took showing the reflection of the trees in the river along the path. Natural Bridge was behind me as I took the photo. I love painting reflections. I still have much to learn about doing them well. One of my goals for my landscapes is to create scenes that draw people in and make them feel relaxed and at peace. I think this painting accomplishes that, for me at least. It is watercolor, 7×10 inches.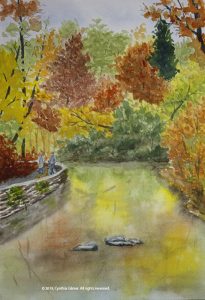 That's what I've been working on lately. I tend to paint more in the winter when the weather drives me inside. I have several other things in my mind or started, so hopefully I'll have more to share soon.
Happy Holidays!