So far the new year looks a lot like the old year, which looked a lot like the year before that. I keep hoping that someday things will start to look better again. To be honest, Covid has sapped a lot of my inspiration. Some would think that I should be painting like crazy, but it doesn't work like that. I need inspiration, some of which comes from the stimulus of going places and seeing things. I haven't been doing much of that.
I looked at how few blog posts I did in 2021, and it is really sad. I have been painting some, but not blogging about it. I am going to try to change that in 2022. Let's start by sharing a few things I've done recently.
The first one is from a photo taken by an online friend of mine who lives in Finland. It's a lovely monochromatic photo of a moonlit night. When I first saw it I though it would make a beautiful oil painting, and I might still do that, but after I though about it for a while I though it would also make an interesting watercolor project. The background was done in a series of washes with various cloud structures. I actually used several different muted colors so it's not simply gray. I masked out the moon to keep the white, and also realized that in order to make it glow I would have to go darker and darker with the washes. Once I was happy with the background I painted the trees. Painting all of those little branches was one of the most relaxing things I've done in a long time. I didn't really do my friend's photo justice, but I think it stands as its own artistic interpretation of the scene. It is 16×10 on Arches 140lb cold pressed paper.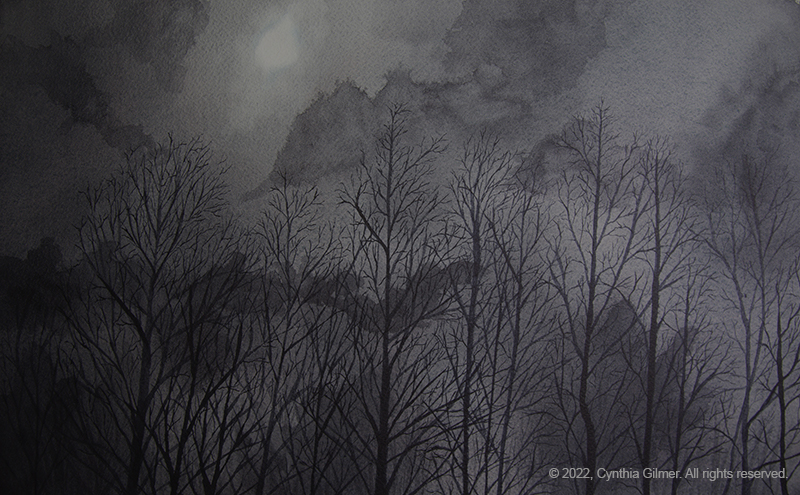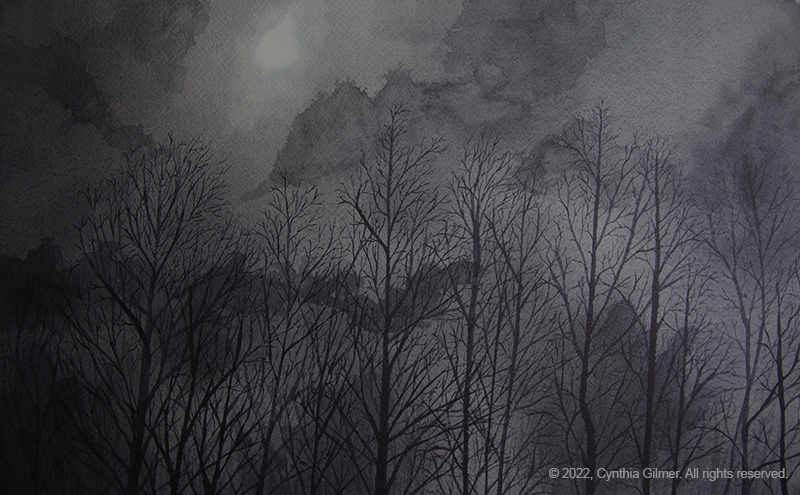 The second one is also based on a photo from an online friend. This one was taken in Korea of the sun setting over the sea. I did this one in a sketchbook first and didn't really like the result. I thought I could learn from my mistakes so I attempted it a second time. I was happy with the result. The first version didn't really capture the ripples in the water, nor was I as happy with the sky. Both of those are better in this version. The sliver grass in the foreground was fun to paint. I enhanced it with a little white ink to get it to glow. This is a small painting but it has really good depth. It is 8×8 and also on Arches 140lb cold pressed paper.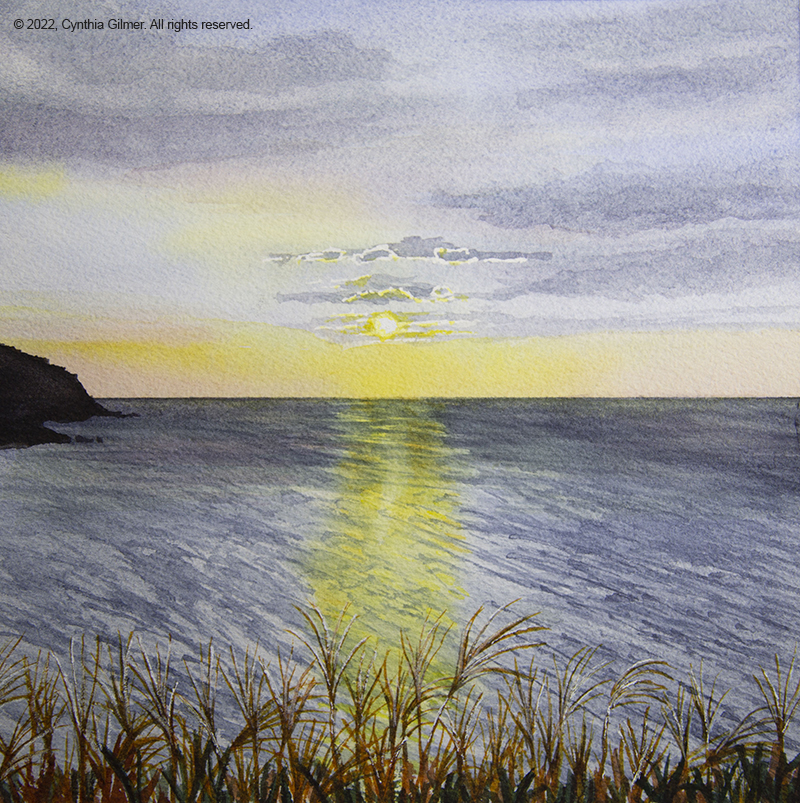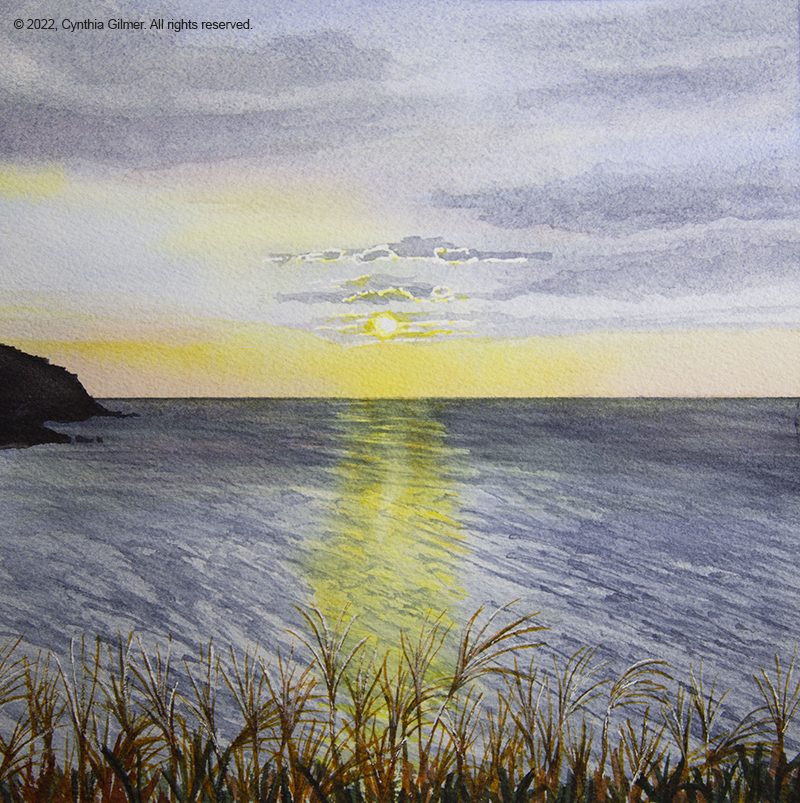 The last one is something different. It's of a photo I took of Afton Mountain Vineyards several years ago. I've painted it in oil and watercolor before. This version is in gouache, also known as opaque watercolor. I don't have much practice using it, but last time I went to Nimrod Hall Summer Arts I took classes from Kesra Hoffman and she does magnificent landscapes in gouache. I'm hoping to get more practice using it in the coming months. This is 12×6 and is painted on Arches 140lb hot pressed paper.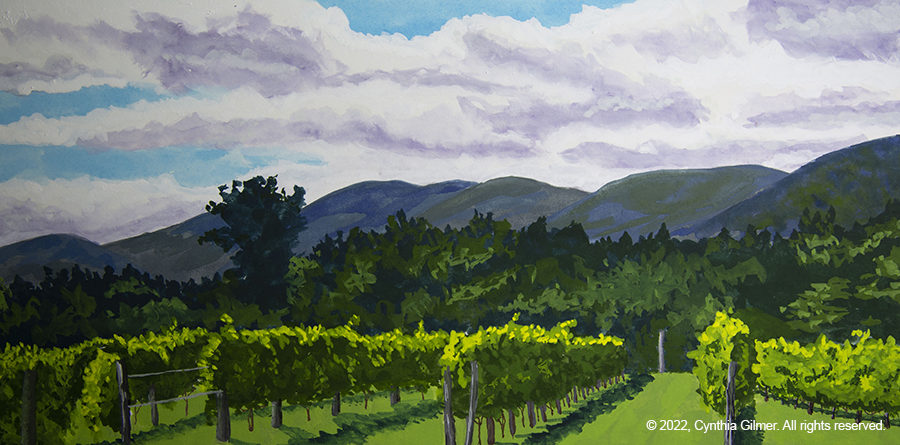 Speaking of Nimrod Hall, I've signed up the past two years and both years they have been forced to cancel their season due to Covid. As they say, third time lucky. I have signed up for a week in mid-July. Kesra is teaching in June and I'm hoping to be cruising around Spain during that time, so I had to chose a different teacher. I'm really just looking forward to a week of intensive painting.
I'm hoping that it won't be so long before my next post. I recently broke out my oil paints for the first time in years. I have a work in progress that I hope to share soon.