I posted a couple of weeks ago that I'd entered two pieces in the Falls Church Arts Plein Aire Contest.  Neither of them won prizes, but I learned today that my painting of the Mad Fox Brewing Company (our local brew pub) sold on the morning the show opened and was the first painting in the show to be sold! That's kind of like winning, isn't it?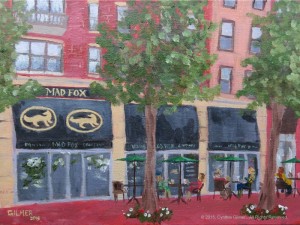 It's not my favorite painting, but part of that is because I'm partial to landscapes more than cityscapes. Still, art speaks to people in different ways.  I'm thrilled that this painting meant enough to someone for them to purchase it.    Apparently others inquired as well, which is very flattering.
I really enjoyed painting it.  It has a story because it got rained on the first day and I had to repaint most of it.  I was self-conscious at first but people were curious and very nice. I guess I'll have to do it again and see if I can repeat my success.
This is a really big step for me. I've been validated.  Can I quit my day job yet?