I said I wasn't going to post these because it's spring, but spring doesn't seem to want to come to the Mid-Atlantic states, so I give up. I'm going to post my snow paintings.
I did these in December.  They are my first attempts at snow scenes.  This really challenges my ability to see the right colors, as I discussed in an earlier post.  I mean snow is white, right?  As it turns out, it's not really white.  At least it's not all white.
We were on the mountain for Thanksgiving in 2014 and on the Wednesday before Thanksgiving we got an early snowstorm.  It didn't snow below about 1,500 feet, but at 3,400 feet we got about 10 inches.  It was a wet, heavy snow that stuck to the tree limbs.  It was beautiful.  I went out for a walk with my camera on Thanksgiving morning and took some pictures as the sun began to come out but before the snow started to fall from the tree limbs.  Our house is on a golf course, so it was easy to walk to some really pretty scenery that showed off Mother Nature's work really well.
I did two small paintings from the photos I took.  One is of the pond at the base of the 7th fairway.  This was a beautiful scene but I struggled with the painting.  I like the trees and the snow, but I did not do the reflection on the surface of the pond justice.  To me it looks out of perspective, and of course the colors aren't right.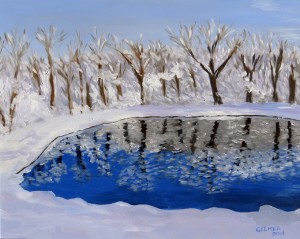 The second painting is of a photo taken further up where a stream crosses the 7th Fairway.  This one I like better.  I stood and waited for a long time for the sun to come out so I could get the contrasting shadows of the trees and the brilliant snow where it was not shadowed.  I like this one better.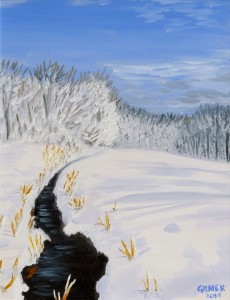 Now I promise, no more winter pictures for a while.