Today was the opening of Scenes in the City, Falls Church Arts' annual Plein Air Festival.  The painting period is from mid April till mid June.   To qualify the works must be painted on location and within the City of Falls Church.  No painting from photographs is allowed.
This was a particularly tough year because it has been so rainy all spring.  That coupled with the fact that we are only in Northern Virginia every other weekend made it a real challenge for me.  I managed to enter two works, both painted on the same Saturday two weeks ago.
This show takes me out of my comfort zone.  I am at my best painting landscape paintings, in oil, in my studio, from photos I've taken.  I am trying to do more plein air because the colors are never right in photographs and the scene is also flattened.  That said, plein air is hard and can be unforgiving.  You have to paint the whole painting in one sitting.  You're dealing with the elements, and curious people, and other distractions.  To add to that, Falls Church is an urban area, so I'm painting cityscapes with buildings and people, which is very different from my mountains.  And if that's not enough, I decided to do them in watercolor this year.  (See my last post for my thoughts about watercolor.)  Watercolor is more transportable and quicker than oil, but I'm still learning to use it.
The show was wonderful. I felt very humbled when I saw the quality of the other works this year.  I did not feel like my paintings held up in comparison. I did sell one of them, so I'm pleased that someone likes my art. Perhaps I judge myself too harshly.  It was fun to be part of the show, which opened at the Falls Church Farmer's Market.  We had great traffic – I think about 175 people voted for the people's choice award.  This is very good for creating awareness of our little Falls Church Arts community.

My two entries are pictured below. Just prior to painting these I read a book called The Urban Sketcher, which will be the subject of a future post. I was doing my best to use what I learned from that book.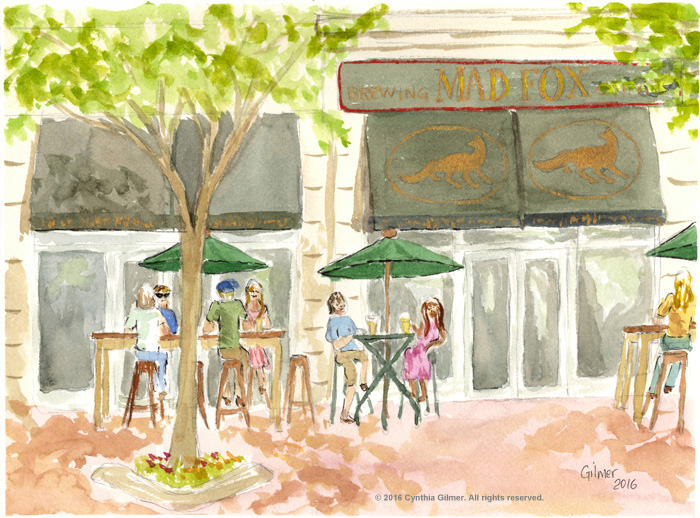 Afternoon Break (At the Mad Fox Brewing Company)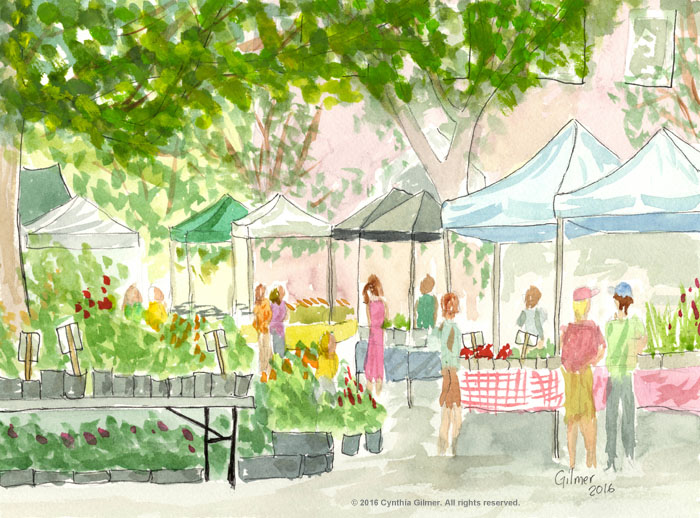 Market Day (Sold)
Finally, in case anybody doubts that I really painted these outside, a very unforgiving photo of my backside appeared in the Falls Church News Press this week.   I was so engrossed in painting my market scene I didn't even know I was being photographed. If I had, I would have tried to strike a more flattering pose.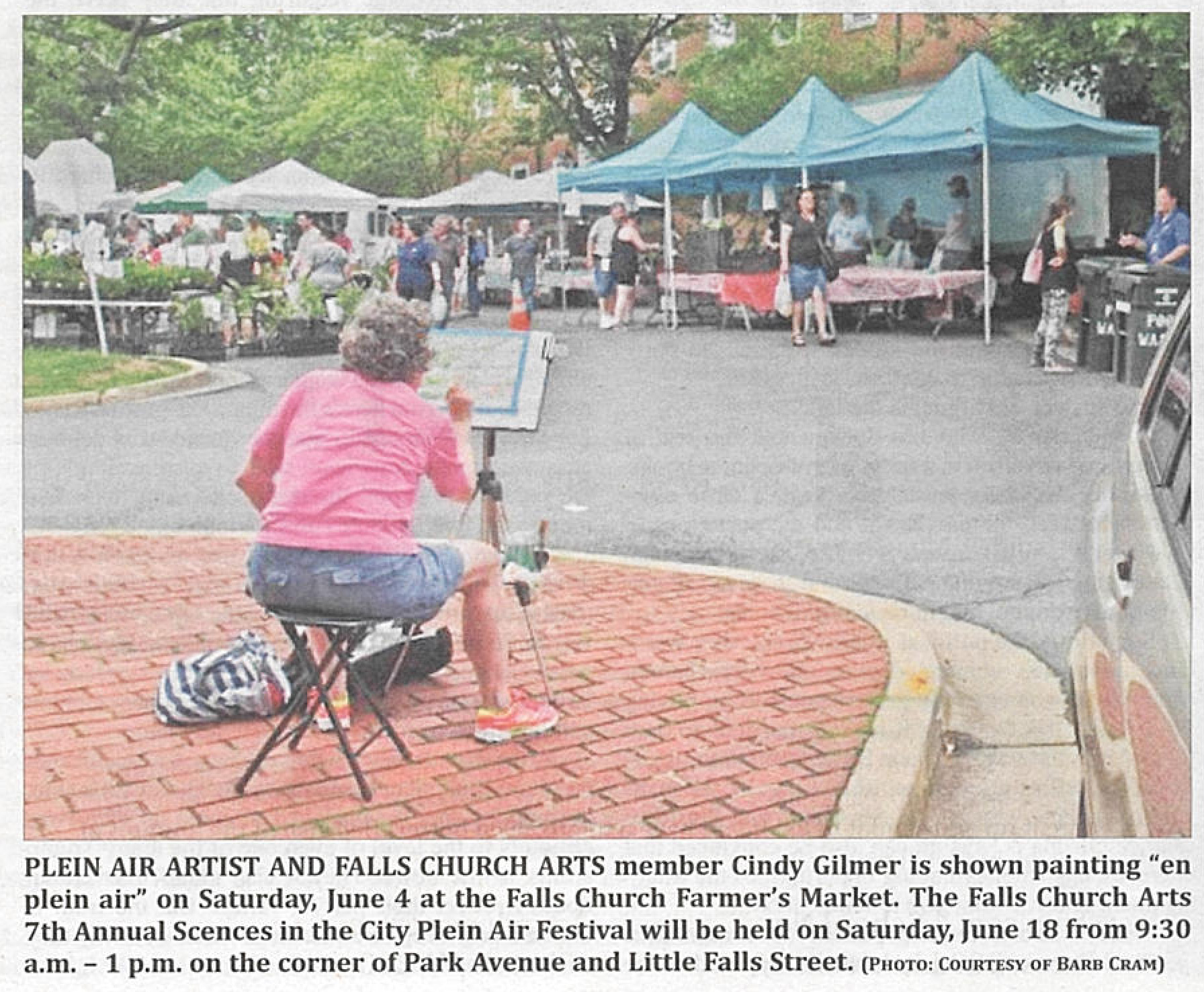 The show will be hung in the Kensington Senior Living Sales and Information Center at 1212 W Broad Street until July 11th. Then they will be moved to Art Space at 410 S Mable Avenue later this summer.  Finally it will be moved to the Falls Church City Hall.  All locations are in Falls Church City, Virginia.