I never really thought I'd have people asking me to paint things for them, but that sort of happened recently. Here's how it came about.
A visionary named Charlie O'Sheilds declared July World Watercolor Month and started a Facebook page, Twitter feed and several other social media outlets. The challenge was to paint a watercolor a day and post it on line. It caught on immediately and before you knew it thousands of people from around the world were posting watercolors paintings on line. (This movement was so successful that the site was renamed World Watercolor Group at the end of July and remains very active.) I knew there was no way that I could paint a watercolor a day, but I was trying to do more watercolor sketching and wanted to join in the fun. When I did something I posted it.
The first painting I posted was a sketch of some Adirondack chairs sitting on the edge of the vineyard on a rainy day at Rockbridge Vineyard. July was also the month when I went to Nimrod Hall, so I did some sketching there in that lovely setting.
As I completed a painting in my little watercolor sketchbook I posted it on the World Watercolor Month Facebook page and shared it with my Facebook friends. My sketchbook is very nice, but is not high quality watercolor paper. It is advertised to take "light washes" which it does. It's great for practice and learning but not so much for archival work.
A friend of mine from high school saw the paintings on Facebook said she loved my "whimsical" little watercolor sketches and asked if I would sell them.  I explained that they were in a sketchbook and were not of sufficient quality for framing. I said I could try to repaint them for her. She agreed to buy them if I did that but it was important to her that they be small and retain the sketch-like quality.
So I set out to repaint them. My tidy little engineer's brain really wanted to make them more perfect given that I wasn't sketching on location anymore and had all the time I needed in the comfort of my home. Gladly I was able to overcome my tendencies and, if I may say so myself, did a pretty good job of duplicating the originals.  I think each of the three is better than the original, but the improvements are in composition and color, and not because I obsessed on making every line and every stroke perfect.
Kathy received them today and says she loves them. Thank you Kathy for challenging me to get outside of my head. You are now part of the journey. Below are the originals and the repainted versions.
Chairs at Rockbridge Vineyard – original top, repainted below.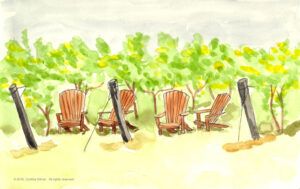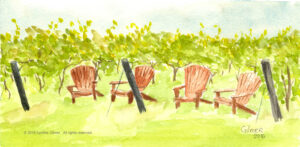 Nimrod Hall Main House – original top, repainted below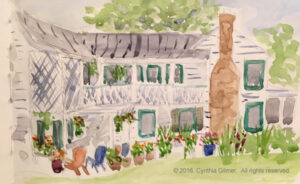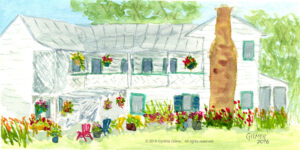 Nimrod Hall Post Office – original top, repainted below