Four years ago we took a trip to Italy with my sister and her husband (who now live there) and some other friends.  We rented Il Casale di Mele, a farm house in Umbria, for a week.  It was a wonderful place with spectacular views.  From the table out on the back terrace we looked out over a town called Collazzone.  This painting was painted from a photo that I took of that town.
I had fun doing this, although it took a while.  I focused on the values.  By that I mean I looked at the lights and darks of the shadows and the brightly lit facades of the buildings.  It took several sessions to paint this and it was done in the mountain house.  That allowed each layer to dry before I began the next.  First I did the drawing, which took a long time all by itself.  I drew each building and roof. I painted the sky up to the roofline.   Then I painted the roofs. Then I painted the light surfaces followed by the darks in a separate session.  Then I painted the windows, doors, railings, chimneys and touched up some of the shadows along the roof lines.  Finally I painted the trees.  I'm happy enough with the result.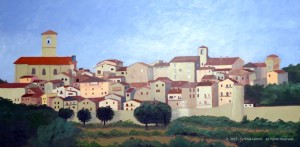 This was a good exercise for me because it forced me to focus on shapes and colors rather than thinking about the "things" that I was painting.