It's been a while. I've been doing a little painting but have also been distracted by various other happenings. Still, I thought I'd share the few things I've been doing. Some are good…some are not so good, but as you know we share the good, bad, and ugly here. That helps me learn from my mistakes.
First up is a little ditty that I did of Three Ridges, which many of you know is a common subject of mine. In this painting I was trying to paint loose. I'm not crazy about Three Ridges itself in this painting, or the background mountains, but like the contours in the foreground mountain, and I like the light in the leaves of the trees. This was a new technique that I used where I left a white border between the trees and the mountains and then filled it in later to maintain the highlights. You'll see that I used this again later and I like the effect. This painting is 12 x 6.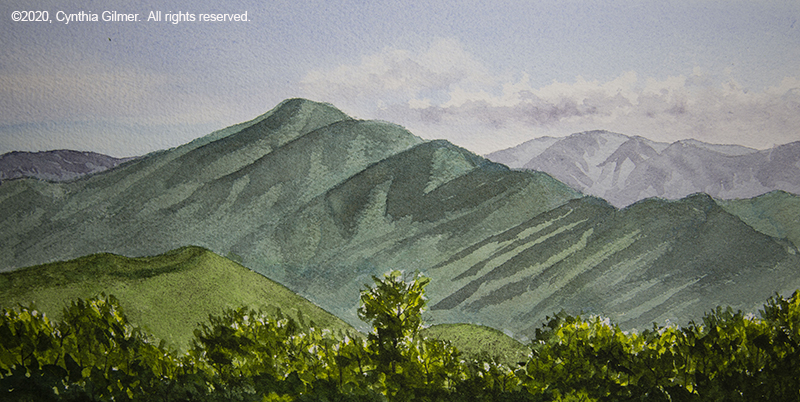 Second is a painting of a stream from a photo I took on a recent hike. I tried to do a time lapse of this one to share with you, but I had issues with the video. Also, I spent a lot of time painting rocks, and it wasn't really that interesting. I am pleased with the feeling of depth that I got with this painting. It is 8 x 8.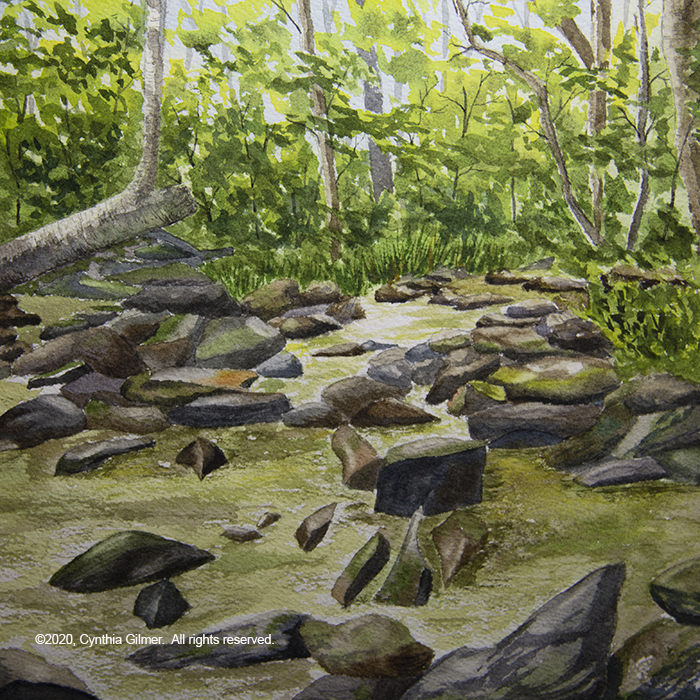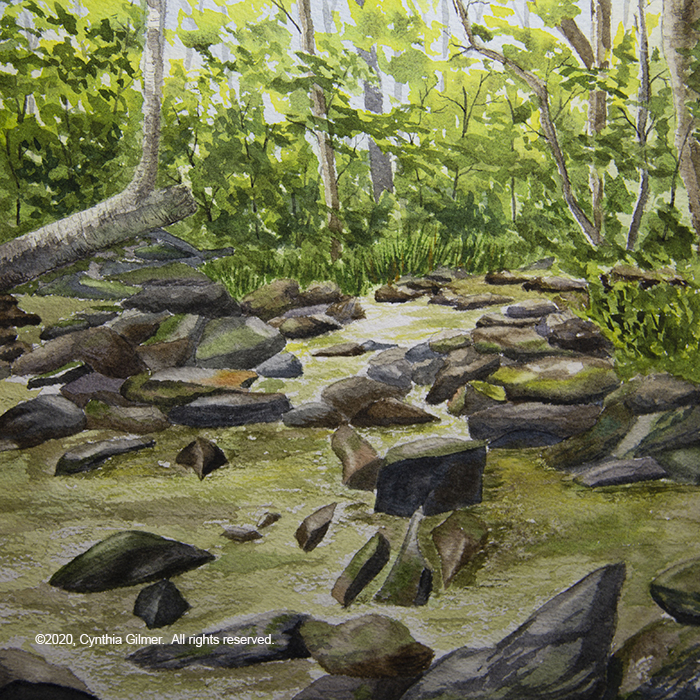 Next we'll talk about one of the ugly ones. I stopped on my way back from the grocery store a few months back and took pictures of a recently mown field that had hay bales…always a popular subject. I composed the scene using several photos and did the composite sketch in my sketchbook to make sure it worked. I still like the little sketch quite a lot. I wanted to paint this one big, because I need something to put above the bed in my guest room. I don't know what I was thinking when I (over) contoured that front hill. I also don't know why I was so compelled to show the mowing swathes. Plus, the contrasting distant mountains are darker and more prominent in the sketch. I lose some of the atmospheric distance in doing that, but might still like the result better. Here is the little sketch followed by the train wreck of a painting. I still think the scene holds some promise, so I might try it again. The big painting is 24 x 12.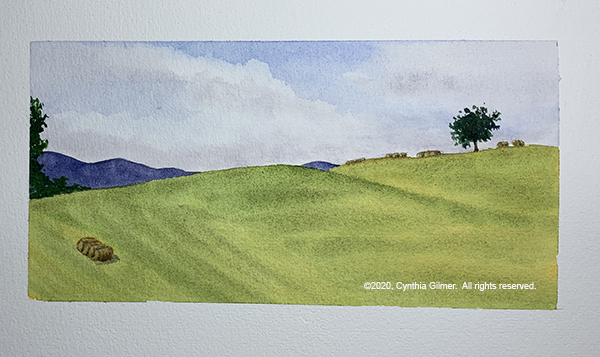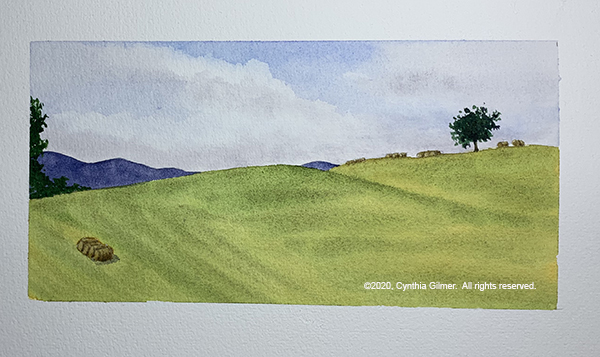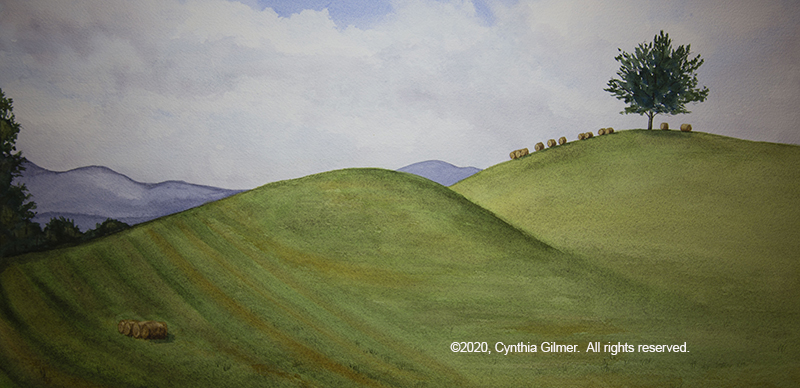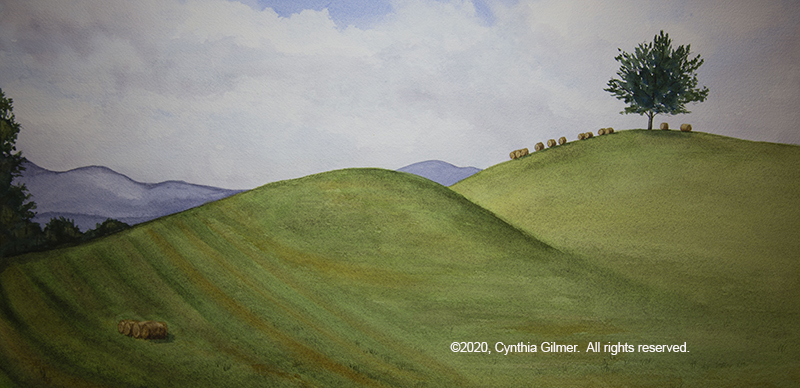 I found an old photo I took along the Skyline Drive and thought it would make a fun painting. I don't remember exactly when or which overlook I took it from but it's a pretty scene, with misty mountains and flowers. I masked the flowers in the foreground so I could preserve white to make bright yellows and oranges. I also used the same technique as I mentioned earlier to preserve light in the treetops, but I don't think it was as successful. I will keep working on it till I can get it consistently right. This painting is also 12 x 6.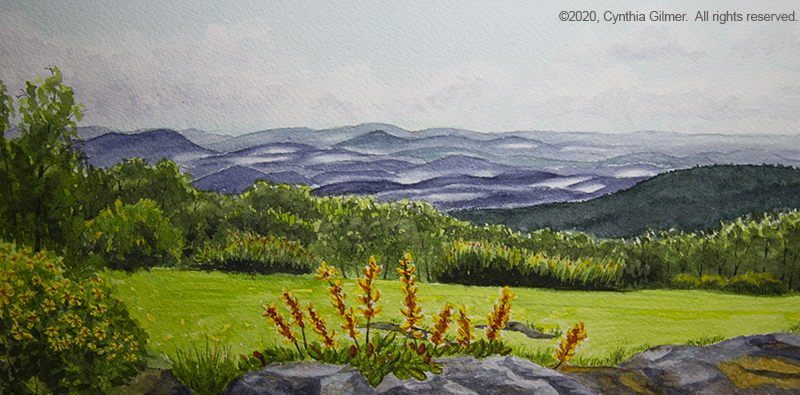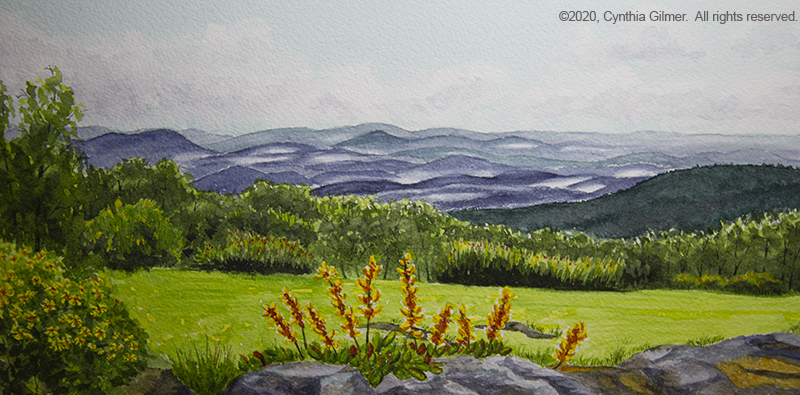 Finally my friend Carlo, who follows my blog, asked me if I would do a water scene he from a place on the Magothy river that is special to him and his wife Mary. He sent me some photos and I did a small sketch that I was happy with. I shared it with Carlo and he had some suggestions about perspective and some other things that were not apparent from the photo. I owe him another sketch and eventually a larger painting that will fit in the space he has in mind. These are next on my list. This sketch is 10 x 4.

I am excited that I was contacted by the new owners of the Stonewall Jackson Inn in Harrisonburg, Virginia. They are prudently in the process of renaming the inn to something less Civil War focused and changing the decor accordingly. They want to feature art by local artists and have asked me to provide them with some paintings. These will be for sale, allowing guests to take home a memento of their stay, which I think is a wonderful idea. I am in the process of choosing and framing some appropriate paintings. Hopefully my next post will showcase my selections.