Last Saturday evening I went to the opening of the All-Member Show at the Shenandoah Valley Art Center. This is my first All-Member Show in this new venue. I was delighted to see how well attended it was.
Piper Groves, the director of the center, announced the awards. I didn't win anything, but didn't expect to. There were many fine works from which the judge could choose, and art is very personal. There is one final award, the audience choice award, that will be based on votes received from the viewers of the show. I don't expect to win that one either, but I did see one lady stand by my painting and write down the title and my name on her ballot, so I know I got at least one vote and for that I am pleased. My painting looked lovely hanging in the hall.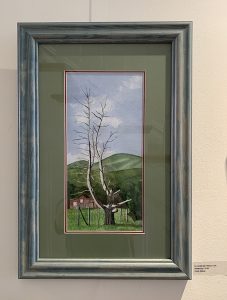 Week after next I go to Nimrod Hall. I have not been for the last two years and this will be the first time ever I've been for a whole week. I will share my experiences here when I return.