Please go to the main page and subscribe to my blog if you want to see all of my posts.
After a two-year break I finally returned to Nimrod Hall this year for their Summer Arts Program. This is the first time I've gone for a full week – my past three visits were all weekend workshops. I was excited to go again, but a little nervous about the "rustic-ness" of it for a full week. I did fine with my back corner room in Square House, despite the fact that my shared shower was too small to turn around in. Halfway through the week I even found an alternative to that. Fortunately our weather was not too hot, so the lack of air conditioning was not a problem.
The instructor I signed up for was Kesra Hoffman. I chose her because she does beautiful gouache paintings. Gouache is a medium I've not worked a lot in but would like to learn to use better. At Nimrod you can sign up for a particular instructor or you can sign up for an "open-week" where you just paint what you like. Total we had about 30 people for the week. Ten were signed up for Kesra and the other 20 were open week.
Each instructor is different, but there seems to be a general assumption that Nimrod full-week attendees are experienced painters who don't need or want a lot of instruction. Kesra's style was to do demos in the evening and be hands off doing her own thing in the morning. Then in the afternoon she would come around and do one-on-one critiques of what we were working on. That worked pretty well for me.
One great thing about Nimrod Hall is that it comes with three meals a day, eliminating the need to cook, clean up, or look for restaurants. This means more time to focus on painting or just relaxing. Chef Jim spends most of his year cooking at a fraternity at Washington and Lee in Lexington VA but for the past several summers he has worked at Nimrod. His food is fabulous. It's got a local southern flair, but is in no way plain. Everything is family style and I can assure you no one goes away hungry. I'm not a dessert eater, but every night after dinner we got something that was big and gooey and irresistible. I was trying to diet for an upcoming vacation, but gave up after a couple of days.
This year I also did something different… in 2014 Laura Loe, artist and Nimrod Hall owner, decided to establish "studio row" a grouping of 10 individual studios each in its own little approximately 10' by 10' house. Studios have a front porch covered with an awning allowing you to work inside or outside depending on your preference. They don't have much of a view, so if you plan to paint there you will need to paint from reference photos, or other material. I rented one, primarily motivated the need for an easy and accessible place to store all of my art supplies for the week. If I ended up with an upstairs room (I didn't) I was certain to struggle with carrying everything up and down those stairs every day. Sadly I'm not as young as I once was. I got studio #7 and ultimately ended up doing a lot of painting there. It was protection from the occasional rain showers, and provided a nice little space where I could concentrate on honing my craft.
On a related theme, I've always considered Nimrod to be a place for plein air painting. The instructors in my weekend workshops have encouraged us to set up as a class outside and paint. As I said earlier, the weeklong workshops seem to encourage a more independent approach. Many of the artists brought partially finished works that they wanted to focus on and finish. Others painted from photos. Some just painted from their mind's eye. So, after the first day I got over the idea that I simply had to paint plein air. Took morning/evening walks and took reference photos and then painted from those.
As is true with any experience focused on a common activity, I really enjoyed spending the week with likeminded people. As I said, there were about 30 people there. Most were women but there were a few men. Kesra got her class together on the first evening and we all talked about our background and goals for the week. It was a great group of people that included, Jennifer Eidson, an artist from Columbia MD. This was her first time at Nimrod. Dolly, who was 87 years old and suffered from macular degeneration but still paints(!) was across the hall from me. She traveled to Nimrod from her home in Charleston WV with her daughter-in-law, Laura, who was a novelist and decided to use the time to edit her most recent book about the daughter of a hoarder. Porter Smith-Thayer painted on the porch of Square House most days. She is an oil painter and this was her first time at Nimrod Hall. Matt, a photographer for the Roanoke Times and watercolor artist was there. He and Jane, another watercolorist, had done Kesra's week for the last few years and knew each other well.
Here is a group picture that was taken of most of the week's artists including both Kesra's class and the open-week participants.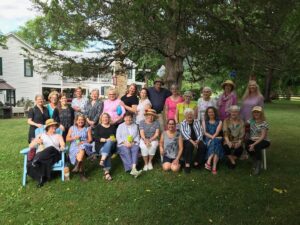 Finally, the Nimrod Hall and its surroundings are beautiful and inspiring. It's located in rural Bath County Virginia, which is right on the West Virginia border. Bath County has no incorporated towns or cities – even its county seat is an unincorporated and very charming town called Warm Springs. It is probably most known for the town of Hot Springs, which is home to the Homestead Resort, I lovely and very upscale hotel. The clean and beautiful Cowpasture River runs through the county and the wildlife is abundant. On our second day we had a visit from a bear. He was a juvenile, old enough to have left his mother, and was curious but in no way aggressive. And I might add, he was cute as a button. Unfortunately I didn't get a picture because when I reached for my iPhone if found an empty pocket because I'd left it on the table in my studio.
Here are some photos of Nimrod Hall and its surroundings.
The art I did will be the subject of my next post. Hope to have that up in a few days. Stay tuned…. (and subscribe!)