Butterflies inspire me.  They are delicate and colorful and beautiful.  When I started painting I had some photographs of butterflies and decided they would be great subjects.  I did my very first butterfly pictures in regular acrylic paints on paper.  Acrylic was all I had and I hadn't really explored other alternatives.  They came out well, but the acrylic paint was heavy on the paper.
Around the same time, my sister told me about gouache.  She had done a painting for me from a trip we took together to Germany and it is gouache and pencil. I've always loved the look and thought the paint looked sheer and classy.  I decided to try my next butterfly in gouache.
What is so fun about painting a butterfly is getting into the patterns on the wings.  The good news is that they don't match exactly.  If they did, my engineer's brain would obsess about getting them to match and I'd never be able to finish the painting.  I really liked my swallowtail that I did in gouache.  I scanned it in and still use it as letterhead for my personal stationery and cards.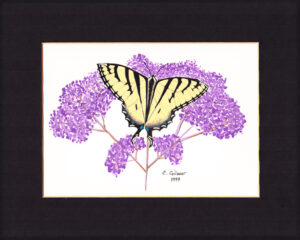 A few years ago after several years of not painting at all I was struggling to get my eye and my technique back.  I decided that I needed to do some butterflies.   The good news is that there's not a huge time commitment.  The gouache is tidy so there's minimal set up and clean up and you can focus your time on doing the painting.  For these more recent butterflies I used gouache but did most of the black on the wings with ink.  I recently entered these in the Loving Life show (October 2014) at Falls Church Arts.  They did not win anything nor did they sell, but they got a nice spot right by the door.  I was also proud that they were selected, as this was my first curated show.