In 2002 I decided that I needed to take some basic art classes.  I was in the middle of starting my own company, so I had my hands full, but somehow I found time to sign up for a drawing class with the county adult education program.  It was called Drawing to Paint, and the teacher was Jennifer Schoechle.  I expected to do to class to learn to sketch so I could paint better.  It was quite different from what I expected, but it was very useful.
The class was based on chiaroscuro, which is the use of strong contrasts between light and dark.  We used primarily charcoal and usually began by covering the entire paper with a charcoal base and then using erasers and more charcoal to establish the lights and darks.  We also worked on perspective.  As it turns out, Jennifer was a gifted portrait painter, and chiaroscuro is a common technique in figure drawing.
While the class was very different than I expected, it was very good for me because it taught me to see contrast and value.  We also learned some basic techniques like drawing the negative space, which is sometimes very helpful, especially with composition.
I went on to take a second class through the county with Jennifer in figure drawing and painting and then a third where she had a group of students take a portrait painting class in her home.  I never imagined myself painting portraits, but it was a very good experience.  It was also my first exposure to oil painting – I had always used acrylics before that point.  Below is the portrait I painted in Jennifer's private class.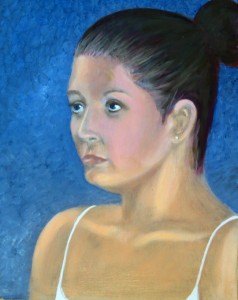 Sadly, I haven't done anything in portrait painting since.  When I picked up my paintbrushes again in 2013 I thought I might try to take another class from her.  I looked her up and learned that she passed away in 2010 at the age of 61, far too young to lose such a gifted artist. Below is the only example I could find of Jennifer's work on Google.