Last night Mad Fox Brewing Company, a craft brew pub near where I live, had a painting party.  They brought in a company called Creative Mankind, who conducted a two-hour workshop where people could paint.  No painting experience was necessary.  I was curious enough to sign up.
First of all, it was very popular.  There were probably close to 50 people who had signed up.  Creative Mankind set up spots with tabletop easels, a canvas, water, brushes, and acrylic paints including black, white, and the primary colors (red, blue and yellow) on a paper plate pallet.  They also had a small photo of olives in a martini glass for each person.  Once they got us all organized they gave some instructions and we all got started.
The subject was simple enough that even beginners had good success.  We started out painting the olives, then we painted the background, and finally we painted the glass and the reflection.  Most people did pretty well as you can see from the photos.
Some people went a little off script 🙂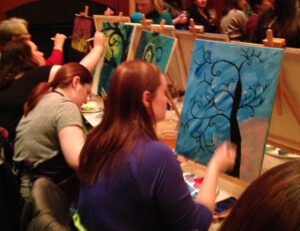 I love the fact that organizations like Creative Mankind are encouraging people to explore their creative side.  A good time was had by all!