It's been a while since I posted anything.  Primarily that's because I had the good fortune to go to Italy for a week to see my sister and her husband.  As always, Italy is wonderful and so picturesque.  It's also very hard to paint.  I've already become discouraged, but I will keep trying.
There was a half finished painting on the easel when I left and I finished it while I was trying to get over jet lag from my return flight.  I like it so I thought I'd share.
I haven't done too many waterscapes, and I've always been very unsuccessful with pictures of surf.  On this one I had more success.  I painted it from a photo I took along 17 Mile Drive in Carmel California a few years back.  It was a windy rainy April day and the skies were mean.  I enjoyed capturing the different colors in the surf and the sky.  The rocks, as always, were a challenge.  I like the end result well enough.  As is true with most paintings, it looks better in from a distance rather than in a close up photo.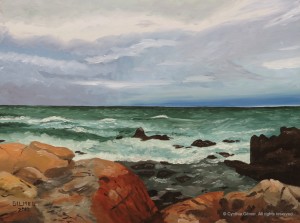 I've got many other things to share so I will try to write another post this weekend.