I have not one, but two commissions I'm working on this Spring. The first is for a friend, Jo Ann, who lives here in the neighborhood. She is doing some rearranging of the art in her house and has purchased three of my paintings. She would also like me to do a large (18×24) watercolor painting of Natural Bridge (Virginia) for her. She was thinking that she might prefer Spring colors, so I've been waiting for the trees to leaf out. Today was a beautiful day so I went down and did the hike. The trees are not quite as leafed out as I would like, but I can change that. I took several pictures and presented Jo Ann with three slightly different angles to choose from. I think this one is my favorite.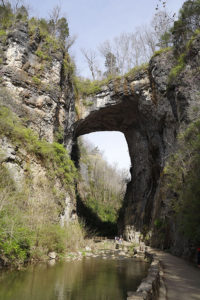 Once I get feedback from Jo Ann, I will do some small studies.
Last year when I did the Rockfish Valley Foundation Plein Air event, I had a couple come up to me at the show and sale and ask if I did commissions. They said they wanted someone to paint their view. They live in Afton Virginia and have a view of the Blue Ridge, including Humpback Rocks, one of the hikes along the Blue Ridge Parkway. They took my card, and I didn't really expect to hear from them. A few weeks back I got an email from Brian, and he said he wanted to commission a painting. I've gone to their house and they do have a lovely view. Here is a nice photo.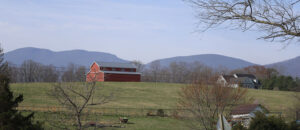 Brian also wants a large painting (24×12) and he would like it done in fluid acrylic because he likes the vibrancy of the colors. I have done a small study to get us started on our back and forth. The composition needs a little work, but I have some ideas.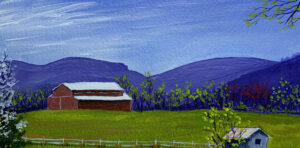 I have to share that one of the things that Brian told me that made me feel so good. He said one of the other artists are the show actually recommended that he see me about doing a commission. I am honored that one of my fellow artists did that. I am sad that I don't know who it was.
I am looking forward to doing both of these works over the next few months! I will post progress and results here!