I apologize for this really long post. I wanted to capture the whole week-long journey all at once. I love Nimrod Hall!
Day 1-sketching and getting my Rhythm
We arrive on Sunday afternoon. Actual painting days are Monday through Thursday. On Friday, check out time is about 11 AM. So that's four full days of painting. A rare luxury of which I planned to take full advantage!
Monday morning I decided the best approach was to go out with my sketchbook. This would give me a chance to loosen up and get comfortable. Laura Loe is good at putting cute little paint-able things around. Last time I visited I noticed this bicycle at the front entrance to the property with geraniums and other flowers planted on it. I regretted not taking a photo of it since my last visit, so I decided it would be my first subject. I chose watercolor pencils as my medium, but did the foliage on the trees with regular water color. The challenge with this one is that it was our hottest day and I was sitting on my uncomfortable folding stool in the blazing hot sun. I could only tolerate that for so long. I did get a fun little sketch.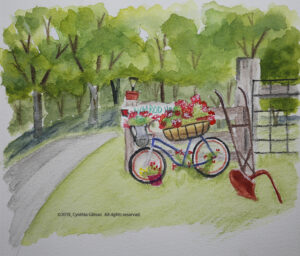 After that, I decided I needed to get 1) out of the sun, and 2) into a more comfortable chair, so I decided to paint the two red seesaws on the lawn between Square House and the Post Office. This allowed me to sit in an Adirondack chair under a tree. It was much more comfortable.
I chose line and wash as my medium. I did the sketch and inking (mostly) before lunch. After lunch the sun had moved so I was forced to move my chair. The charge in light and perspective did not matter too much since I'd already captured the drawing. I spent the afternoon finishing This up and felt it was a good second effort for the day.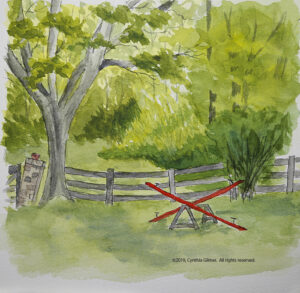 Day 2- Landscape Painting in My studio
Monday evening our teacher, Kesra Hoffman did a gouache demo for our class. She said she resisted the medium at first but then decided that she could just use it like watercolor and grew to love it. I'm not sure I totally agree with that, but I do agree that if you start with a wash and build up, that first layer is similar to water color. Watching the demo was humbling because Kesra is so comfortable with the medium. I knew I needed to try it to see what kind of results I could get.
Another factor that helped set my direction for the day was my realization that I should get over needing to do plein air and paint in my studio. As I said in my earlier post I have always thought of Nimrod as a plein air location, but found that many of the artists there with me did not subscribe to that way of thinking. I figured I had paid for the studio so why not use it?
I went for a nice walk on Tuesday morning and took some nice pictures. I decided to spend my day painting a landscape from one of my photos in both watercolor and gouache to compare the two mediums. The reference photo I used is below. I like it because of the clouds and the contrast between the green grass and trees and the golden fields. I also noted the clump of trees right at the end of the road. Technically this is a composition no-no, but I kind of liked it so I decided to run with it.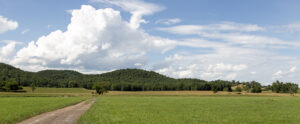 I painted the watercolor and the gouache together, switching from one to the other during drying time. There are similarities and differences between the two mediums. I learned that the gouache can get undesirable "blooms" just like watercolor. The gouache yields harder edges where soft edges are easy in watercolor.
When Kesra came by in the afternoon and did her critique she pointed out a couple of things. First, my road did not go far enough into the center of the painting. She showed me how I'd made an error in the proportions as they appeared in the photo. Second, she pointed out that the trees at the end of the road weren't really working. I'd hoped they would, but I was wrong. She also pointed out that the variations in color along the tree line in the gouache were really nice, but the watercolor was too consistent.
I was able to cover and move the road in the gouache, but that was not possible with the watercolor—a distinct difference between the opaque and transparent mediums. I also lifted some color on the tree line in the watercolor, but in a subsequent critique Kesra pointed out that it was a little too formulaic. Here are the two paintings. They are 10" x 4" on Arches 140 lb. cold press paper.
I really liked doing the same scene in two different mediums. It was very educational, not only in learning about the different media, but also in studying and interpreting the scene. I decided to keep it going the next day by doing the same scene in oil and acrylic.
Day 3 – More Landscape Painting in my Studio
When I was packing to go to Nimrod I packed way more than I needed for art supplies, because I didn't know what I'd be doing and wanted to have whatever I needed. I am happy I did that, because I ended up doing some things that were out of the ordinary…like painting in acrylics. I had these two little 12 x 6 stretched canvases that I tossed in. I like the 2:1 footprint for landscapes, although I usually paint bigger. Painting smaller has its advantages if you're painting plein air or trying to do a lot of quick studies.
So on Wednesday morning with my two little canvases in hand I set out to paint the same scene in oil and acrylic. I haven't painted much in acrylic in years. I get very frustrated with it because once I switched to oils, I couldn't take acrylic's fast drying time.
Once again I switched back and forth between the two. Of course, that didn't allow the oil to dry…that takes weeks or even months. Switching still gave me a break. It's always good to look away.
Similar to the gouache, the acrylic yields much harder edges. The fast drying paint makes it hard to blend the colors, but the oils are very difficult to get hard edges with. You can do it if you wait for it to dry, but that takes a long time.
I like the colors better in the oil version. There is more variation. Some of that is the nature of the slower drying oils, but I also had a more extensive palette of oils to start with. I only had a limited number of acrylics, even after supplementing them by buying more in "The Art Box" bus which is parked at Nimrod every summer to provide artists with materials they find they need but don't have with them.
When looking at all four versions I found that I got bolder with the skies on the second day, so the oil and acrylic versions have much more dramatic clouds, which I think is an improvement. I found myself wishing I'd been more daring with the skies in the watercolor and gouache versions. Here are the two paintings from Wednesday.
Day 4 – Another Day of Gouache and Watercolor, but Not the Same Subject
I had one last day to paint and after spending two full days interpreting the same scene I was ready for something different. I did two more paintings on Thursday – one watercolor and one gouache.
On Tuesday evening we had a thunderstorm followed by brightening skies and a rainbow over a nearby ridge. I brought out the camera and took a lot of pictures. While I was doing so I pronounced, rainbows are nearly impossible to paint. So what did I do? I painted the rainbow!
Several years ago I did an oil painting of a rainbow from a photo a friend had taken. I was not happy with the result. I decided that watercolor might be friendlier. I hoped that if I did a wet in wet approach I could get the primary colors to bleed into a full ROYGBV* spectrum. It kind of worked, but not nearly as well as I had hoped.
The criticism Kesra had for me was that I did not get enough atmospheric distance in my mountains. They were too green, which is never the case when you're looking at them at a distance. This is something I'm still trying to train my engineer's brain to do. I need to learn to see, and paint what I see, rather than painting what I know to be true. Yes, the mountains are green…and yes they look green to me in the picture, but they are much bluer than I think. I really need to work on this! Here is the painting. (10" x 7" Arches 140 lb cold press)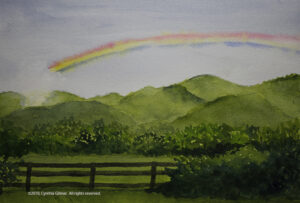 And here is the reference photo.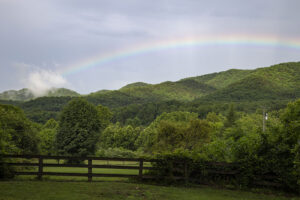 * red, orange, yellow, green, blue, violet
In the morning I'd gone for a walk and I found a pretty scene with a dead tree (dead trees are great fun to paint) and a field in the background with hay bales. I decided it would be fun to do as a gouache study for my final painting. This is probably the one I spent the least time on. We had the walk-through that evening and so there was a lot of pressure to get it done.
Kesra didn't have a lot to say about this one. I like the sky but the rest of it is a little flat. I could probably correct that if I spent some time on shadows and highlights. I may also do this again in watercolor. Here is the painting. (6" x 12" Arches 140 lb. cold press)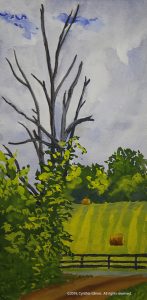 Each Nimrod art week finishes on Thursday night with a walk through where everyone displays what they were working on and people walk through and see it. As Laura Loe explained, it's not really a critique… it's more of a "love-fest". I must say, people did some lovely work.
I painted up until almost the last minute and then tidied up my studio, which of course was a mess. I did take a break to shower, but most everyone was well dressed and I was still in my shorts and t-shirt. Oh well.
People seemed to like my story about my scene that I painted in different media. They were interested in which I liked best and I explained that all had their pluses and minuses, but the process was very educational. Here I am with my work.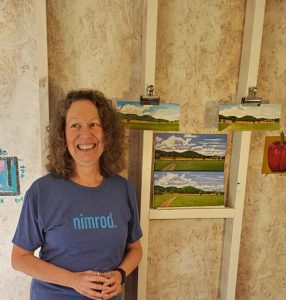 Is I said in an earlier post, Kesra did her own thing in the morning and did critiques of our work in the afternoon. She did some beautiful work. Her gouaches really pop. I'm hoping to keep practicing my gouache. I'm inspired by how beautiful hers are. Here she is with her body of work from the week and a few other things she threw in. The two landscapes on the upper right were the demo she did for us on Monday evening.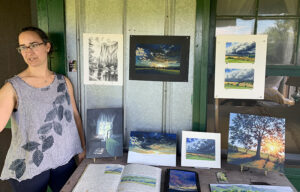 Nimrod is a magical place and it's wonderful to spend time with such creative people in such an inspirational place. I'm already looking forward to next year.