Nellysford is a town that is not far from where I live. It's a small town, but it includes the neighborhood of Stoney Creek, which is the valley located part of Wintergreen Resort. There is a field just north of Nellysford on the east side of Route 151 that I've been driving past for years. I've wanted to paint it for a while. It's very pastoral, which is a feeling I often try to bestow upon the viewers of my art. I recently stopped and photographed it. Here is the photo reference I used for these two paintings.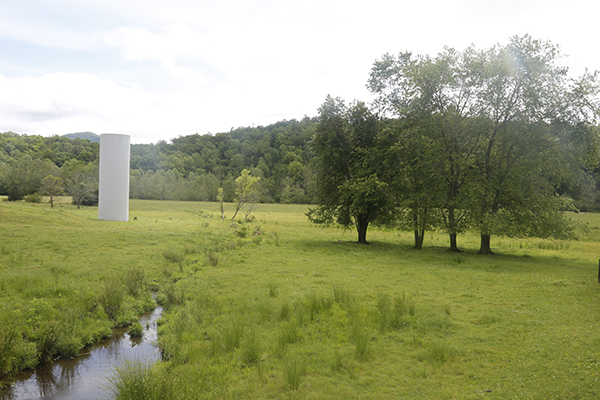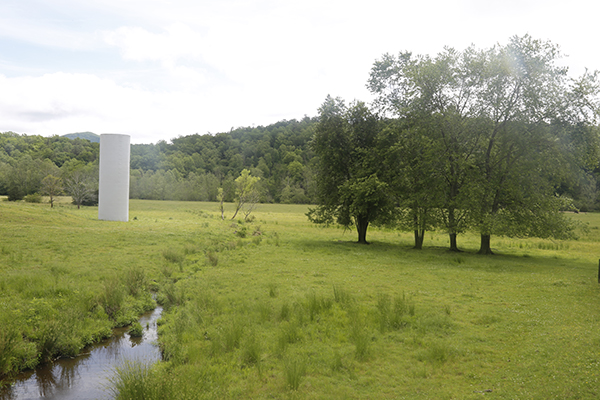 The first painting is 16 x 12 showing the field horizontally, with two layers of trees in the background, the silo in the mid ground along with three large trees on the right, and finally the stream in the foreground. I did this with my usual Da Vinci watercolor palette, which I confess I've been growing a little bit bored with. Here is that painting.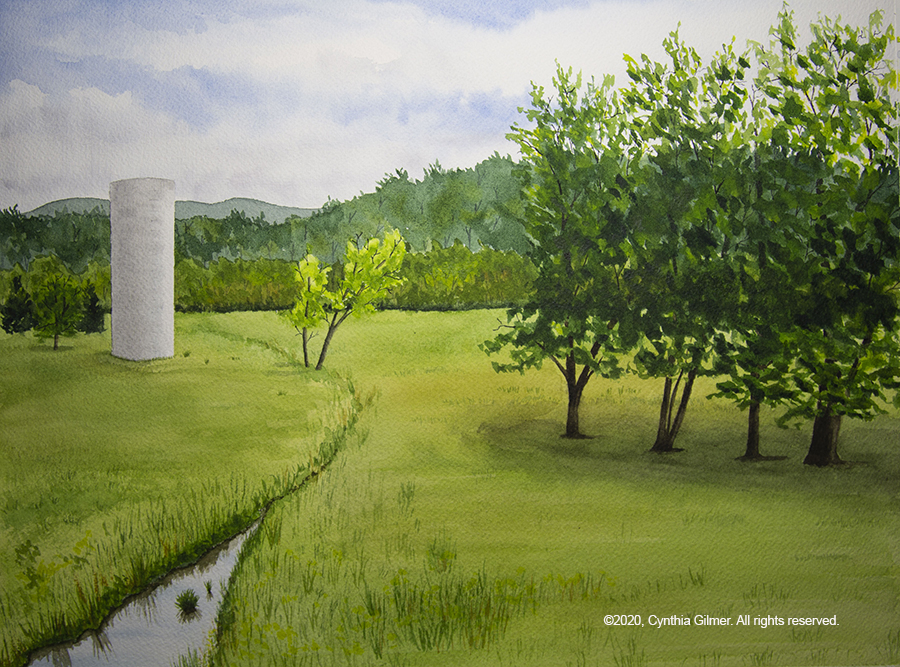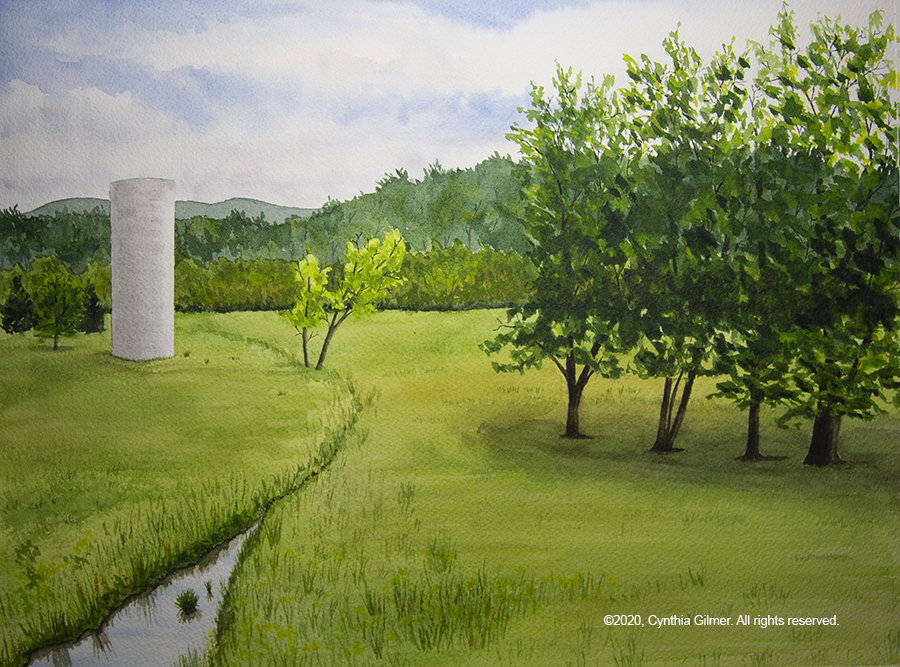 As you might imagine, doing the water and the reflections was one of the more fun and interesting parts of this painting. I enjoyed that very much. I masked the silo with painter's tape to maintain its white and did that part at the very end.
As a landscape painter, I find very few opportunities to paint in a vertical orientation, which is sometimes nice. When I was done with the horizontal version of this painting I looked at it an realized that just the left side of it had nice composition in it's own right so I decided to do a smaller version of just that part of the scene in a vertical orientation. This painting is 9×12.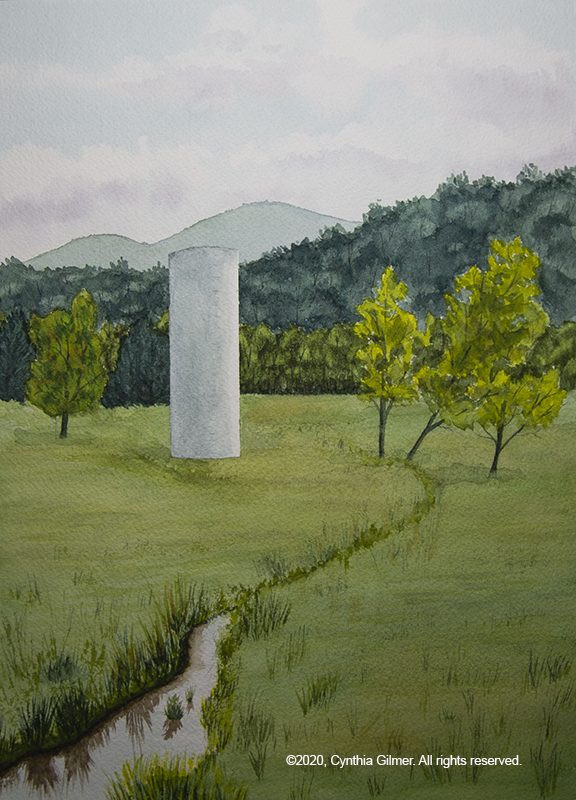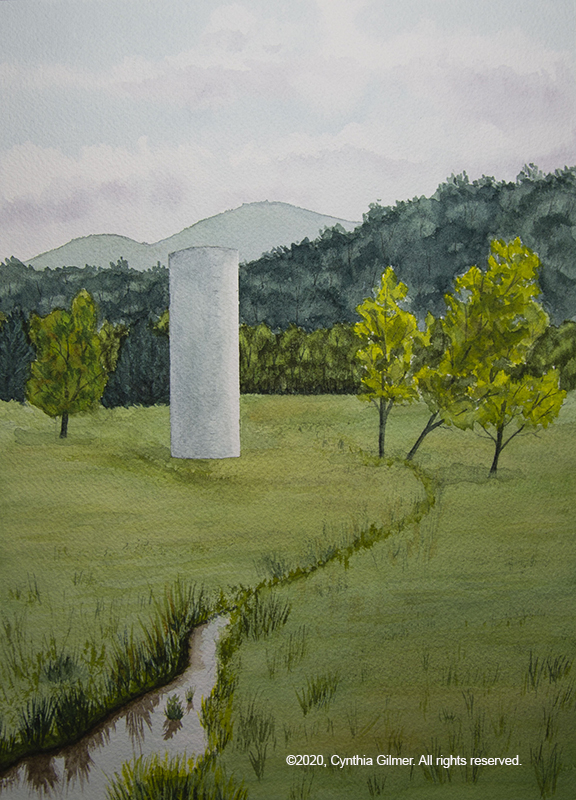 While I was painting the first painting I watched a video from Steve Mitchell on his Mind of Watercolor YouTube channel. He is my favorite online instructor and the source of much of my inspiration. He created a limited edition palette of Daniel Smith watercolors that was being sold on line through a store in Minnesota called Wet Paint. It has some bolder colors than what are on my normal palette, which allow me to mix more variations of green. The second painting was done with this palette. I really enjoyed working with something different and I'm looking forward to doing more with it in the very near future.
Here is a scan of my swatches for this new palette.


The sad news is that two weeks ago would have been my week at Nimrod Hall Summer Arts Program, but they cancelled their full season due to the pandemic. I really missed my week painting. I'm looking forward to next year.
Be well!