In my last post I mentioned that I was working on something in my sketchbook that I was going to share. One challenge with using sketchbooks is if you do something you really like it's in a sketchbook and you can't do anything else with it, because it's attached to the sketchbook. Also, while you can get watercolor sketchbooks with good 100% cotton paper it's still different from the paper I'm used to painting on. The way watercolor interacts with the paper, and the way the paper absorbs the watercolor is extremely important to the outcome, so I have become very picky about the paper I use. I always use Arches 140lb. cold press paper. You can't buy a sketchbook with that paper, unless it's hand crafted. I've gotten them off or Etsy but they are very expensive.
A few years ago, I took a class on Traveling with Watercolors at the Beverly Street Studio School in Staunton, VA. The teacher made her own sketchbooks with Arches paper. She would cut the covers from mat board scraps and she'd cut the paper to fit. Then she'd take the whole thing to Staples to have them punch and bind them. I did a little research and figured out that the binding machines don't really cost that much, so after about a year of thinking about it I bought one and started making my own sketchbooks. I have done two so far. I just filled up the first and started painting in the second one.
Here they are closed so you can see the covers and how they are bound.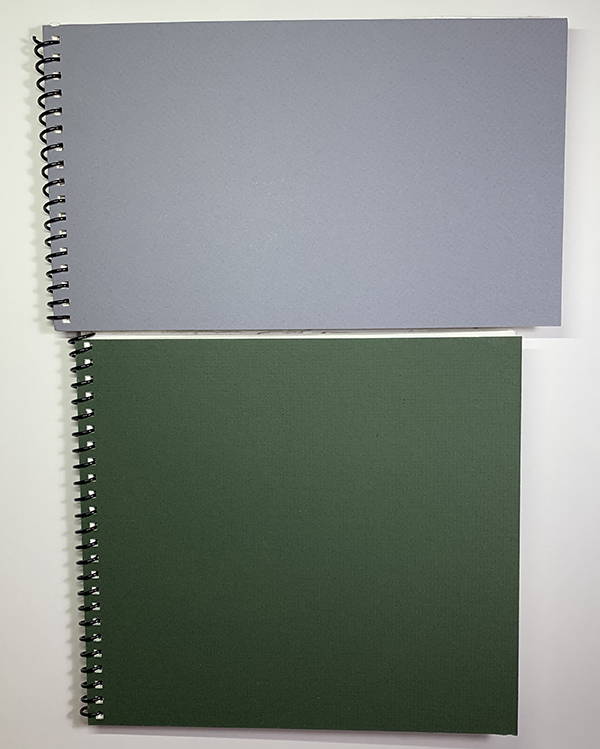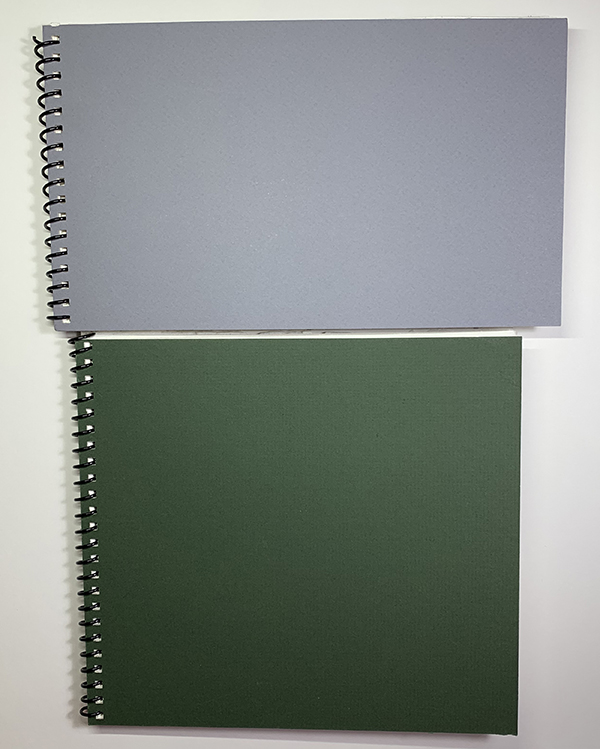 And here they are open so you can see some sketches on 100% cotton Arches 140lb. paper.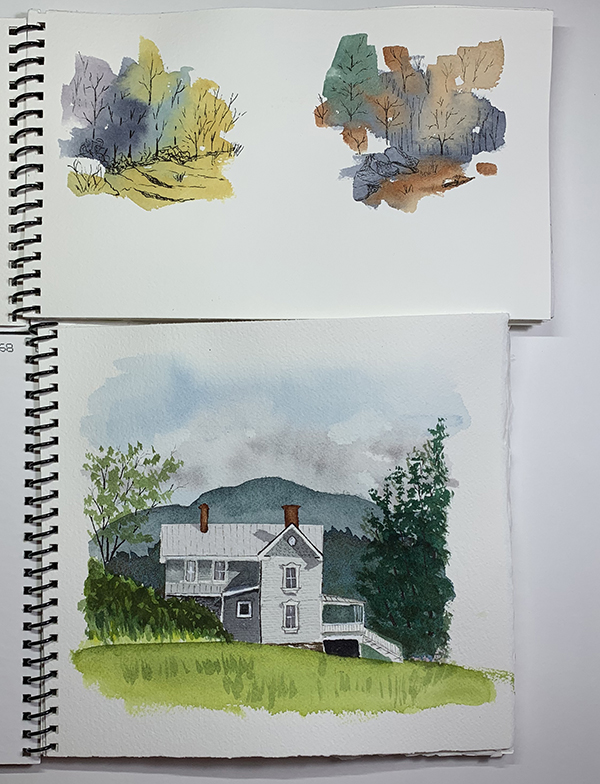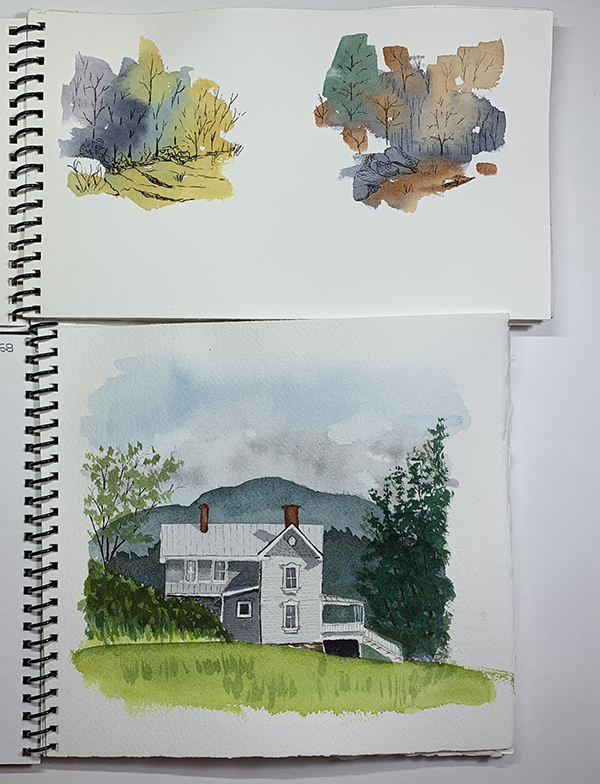 Anyway, one advantage to using sketchbooks that have nice paper is if you get really lucky and create a painting that might be suitable for framing, you can detach it and frame it.
I had taken a photo of a small barn in the valley across from Devil's Backbone Brewery. I didn't really like the setting, but the barn itself had a lot of character. I thought I would practice Steve Mitchell's spontaneous watercolor techniques to do the background and then I'd paint the barn from the photo. Masked the barn with tape and then painted the background. The spontaneous method requires a lot of random paint, water, blending, running, dripping and spraying. Then you use the random shapes and create more detailed aspects of a landscape from it. I really liked the outcome.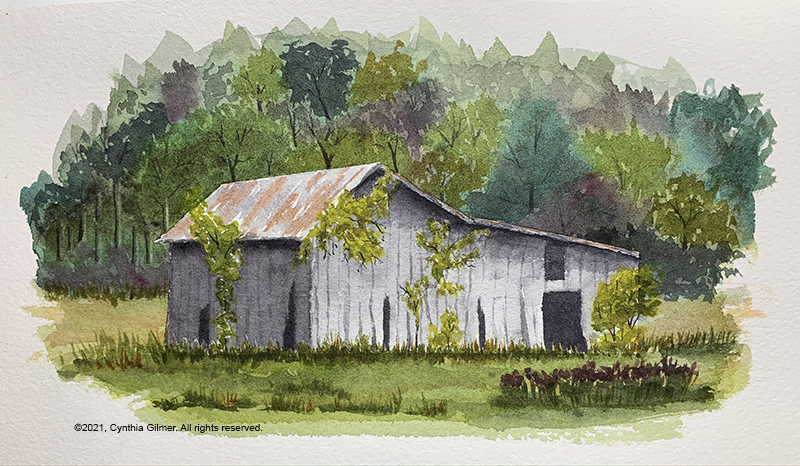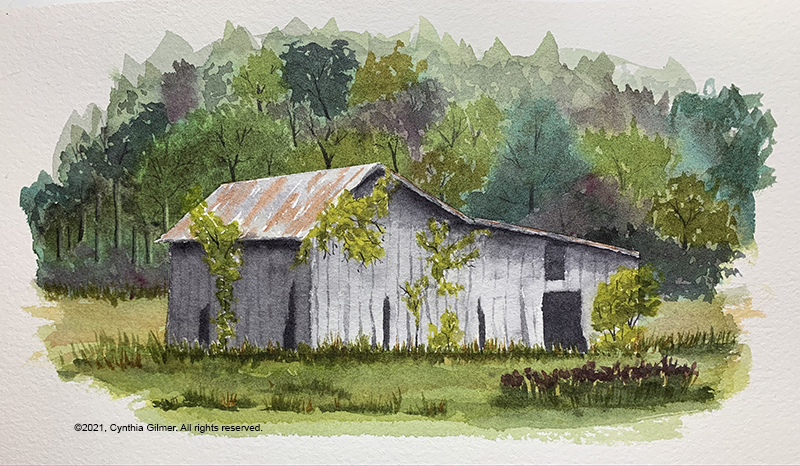 It is looser than most of my work but the barn is still quite detailed. It also has white space around it, rather than filling up the whole page. That's actually a function of the sketchbook because I don't feel compelled to paint to the edges. I don't have to paint to the edges on other paper either, but I have this engineer's brain that really wants to fill up the page. I'm going to use this as an inspiration to stop doing that.
It's small, about 7 x 9 inches. I bought a small frame and I'm going to remove it from my sketchbook and frame it.